Strategy One: Report with no tag restrictions
Remember, you don't have to add tags to a report. If you don't add any tags to the list shown when editing a report, the report will show all time slices for the selected time period, regardless of what tags were applied.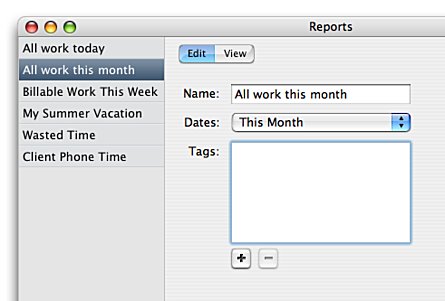 But having no tag restrictions at all may give you more than you actually need in this report. But you don't need a more complicated report. You just need to think a bit about how you use the tags. Try this:
Strategy Two: Use more tags while working
If you need more flexible reports, you probably just need to use more tags. You can—and should—turn on lots of tags to describe your work. Each tag you turn on enables you to create a report just for that tag. The more tags you turn on, the more kinds of reports you'll be able to make.
So in addition to turning on a tag for the name of the client you're working on, also turn on a tag called Client Work. That will allow you to make a report for all client work. While you're at it, how about a Billable and a Not Billable tag? That will let you see how much client work you've billed for and how much client overhead work you've done that you can't bill for.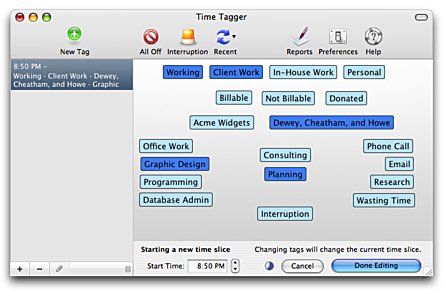 It's also a good idea to use a Working tag. Just keep it turned on the whole time you are actually at work. By tagging all your work time slices with this tag, you can run reports on all your work time, regardless of what you were doing.
This is also the ideal way to have employees track their working hours. Have your employees turn on the Working tag for all times that they are at work and on-the-clock. Then your employees can give you two reports each month: one for their billable time, which you'll use to invoice clients with, and one for all their Working time, which you'll use to calculate their paychecks.