It's Your Time. Track it with Time Tagger
Time Tagger · Track your time
There are a lot of time tracking programs out there, but Time Tagger is truly unique. You don't have to set up a lot of clients and projects and timers. Just click tags on and off and let Time Tagger take care of the rest.
| Try the free demo | Purchase a license for $28.95 |
| --- | --- |
| Download | |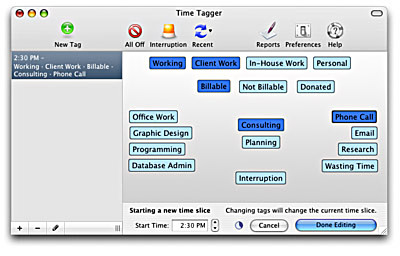 Now for something completely different
You've never used a time tracking program like Time Tagger. But once you try it, we think you're going to like it.
With Time Tagger, you don't have to bother with projects and tasks, you don't have to worry about timers, and you never, ever have to click a clock. Time Tagger lets you stop worrying about the time and just concentrate on your work.
Click tags on and off
You track your time just by clicking tags on and off. You can create as many tags as you need to describe your work. Then, when you start a new task, you just click on a few tags. You might turn on Client work, Billable, Acme Widgets, and Graphic Design. When you move to a different project, just switch into Time Tagger and change the tags.
Flexible reports
You can create time reports that organize your time according to tags. When invoice time comes, you can print a simple time sheet or export a time report to a text file that you can import into a spreadsheet or billing program.
Just time tracking
Other time trackers throw in project management and invoicing and address book integration and graphs and a million other features to hide one embarrassing fact—they're no fun to use for tracking your time. Time Tagger is just a time tracker (and reporter), but it's the best.
Just try it
Download the free demo and see for yourself how easy it is to track and report your time with Time Tagger. The first time you launch Time Tagger, you can take a quick video tour to learn how everything works. There's a complete manual too and free technical support with every purchase.